Our Public Transport Tours
Timings:

1000 hrs to 1300 hours.

Meeting Point:

The Oberoi Grand Hotel Lobby

Price:

INR 3500 per person inclusive of transportation cost.

In Calcutta, do as the Calcuttans do. / Public Transport Tour

Chowringhee to Riverside

One of the best connected cities of the world, Calcutta has a plethora of options to take you from place to place. The International Association of Public Transport ranks this city among the top 40 cities in urban mobility.

Trams were introduced in the 1860s. Horse-drawn at first, they were electrified early in the 20th century. Tram routes have been cut back at a time when our gasping city needs this means of cleaner transportation.
Taxis – A veritable tank that barrels through our streets, the Ambassador is based on an old Oxford Morris design not in production in England sadors serve as taxis and remain vehicles of choice for our much-since the 1950s. The best cars for the crater-pitted roads here.
Autos – Unlike in other cities the auto rickshaws ply only on fixed routes. A fun crazy ride if you can find one with music and disco lights.
Metro Rail – India's first and Calcutta's cleanest – the metro serves millions who traverse from north to south. An East-West Metro and several other routes are now being added.
Rickshaws – Officially banned, this archaic mode of transport still plies through old Calcutta's streets. They become indispensable on days when it rains cats and dogs and the city is flooded with knee deep water. Fares need to be agreed to in advance.
Buses – The popular joke is buses don't ply in Calcutta, they 'fly'. You will come to realise this when you see them hankering after passengers and overtaking each other, often with less than pleasing results. There are various kinds, including air conditioned services.
Trains – Hundreds of trains bring in loads of passengers seeking their livelihood in this city. Then there's the circular railway network that can be used to go to different localities within the city.
Ferries – Another super-cheap mode of transport, this one is great to bypass the traffic-clogged Howrah Bridge.

In this tour we will try and get you inside as many of the transport systems as possible thereby decoding for you the way the city moves. More than half of all journeys in the city are made on public transport which jostle with each other on the less than 6% road space that our city offers.
Latest from our blog
22nd December, 2013
Raja Rammohun Roy in Bristol by Claire Tomkins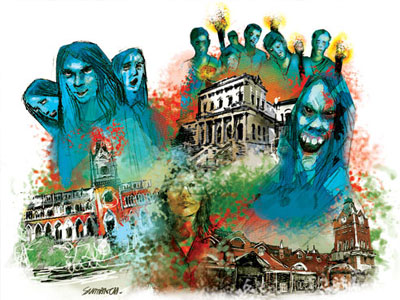 31st October, 2013
A HAUNTED NIGHT TOUR BY IFTEKHAR AHSAN OF CALCUTTA WALKS TOOK T2 TO SIX SPOOKY SPOTS
27th September, 2013
Theatre And The City by Shuktara Lal
11th September, 2013
Street Eats by Ifte in The Telegraph Food Guide 2013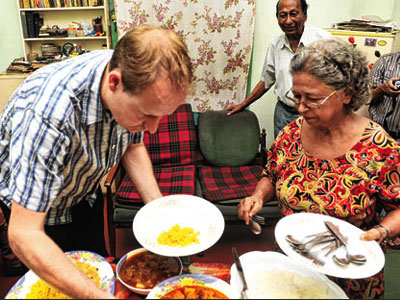 4th September, 2013
Dominic Chapman, Michelin star chef, goes on the Calcutta Walks Food Trail
Jane's Walk Adda Report… the way forward.
Calcutta Walks would help all to take the stride towards making of a brighter Kolkata.
29th June, 2013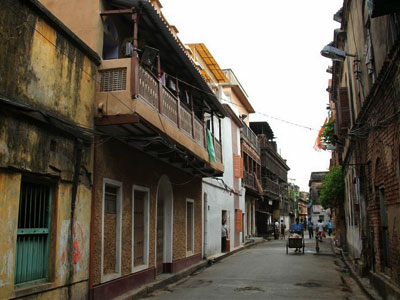 20th June, 2013
Nidhi Dugar Kundalia's narrative on Calcutta, her in law's place, which she shares with Goddess Durga.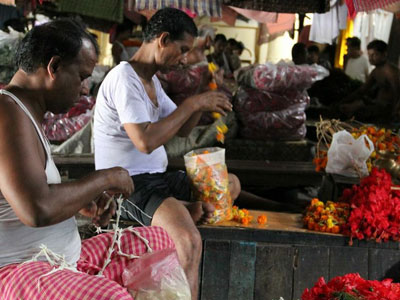 6th May, 2013
Unknown city found on foot
48,776
Cups of cha consumed